Apple's head honcho Tim Cook revealed the new iPad at an event in San Francisco today. Once again, it's evoluton rather than revolution – but it still includes some stunning improvements.
So here we present the full details on Apple's new tablet which comes complete with iOS 5.1.
And before you ask: yes, it really is called 'new iPad'. No iPad 3. No iPad HD, just plain old new iPad. Crazy, huh?
New iPad release date
The new iPad UK release date and new iPad US release date are both set for 16 March. Pre-orders are starting today. That day will see it launch in the US, Canada, UK, France, Germany, Switzerland and Japan.
New iPad price
The new iPad comes in the usual three standard memory variants – 16, 32 and 64GB.
US pricing first: 16GB for $499, 32GB for $599 and 64GB for $699. That's £399, £479 and £559 in the UK.
For Wi-Fi + 4G, then it's $629, $729 and $829 respectively, or £499, £579 and £659 – though the faster data will be of limited use in the UK of course.
The iPad 2 will remain on sale in a 16GB version for $399 (Wi-Fi) and $529 (Wi-Fi+3G). That will really annoy all of Apple's tablet competitiors – iPad 2 will be £329 or £429 in the UK.
New iPad processor and graphics
The processor is an Apple A5X ARM-based unit – it has quad-core graphics but is still a dual-core based unit.
Apple reckons it's "twice as fast" as Tegra 3, and offers four time the graphics performance of Nvidia's chip. We're not sure Nvidia will let Apple get away with that one – and we're not even sure it can be true – Tegra 3′s performance is stunning and the Tegra 3 GPU has 12 GeForce graphics cores…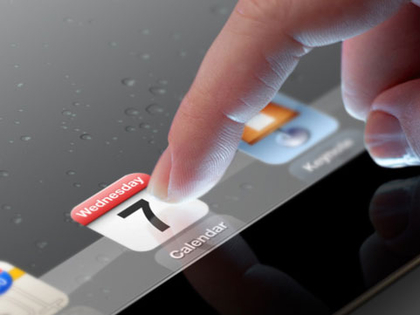 New iPad screen
The iPad 3 has a stunning retina display – as on the iPhone 4 and 4S you can't distinguish individual pixels and the resolution is a stunning 2048 x 1536 pixels. As expected, it's the same 9.7-inch size.
It's only 264ppi in sharpness – but that's still enough to pack in 2048 x 1536 pixels into the screen. It has a milion more
There's the fingerprint-resistant oleophobic coating from before as well as support for display of multiple languages and characters simultaneously
New iPad camera
You can now record 1080p video on the iPad 3 with an iSight camera (yes, we thought the iSight name was dead too). The rear camera is set at 5 megapixels and has a 5-element lens plus auto face-detection, auto focus lock and image stabilisation for video. Once again there's tap-to-focus as well as photo and video geotagging.
New iPad Dictation
Dictation is now included within iOS 5.1 on the new iPad. Instead of typing, tap the microphone icon on the keyboard, then say what you want to say. Tap done, and iPad converts your words into text. You can use dictation to write messages, take notes, search the web and more.
Dictation also works with third-party apps too.
New iPad apps
Apple has announced iPhoto for the iPad. It looks terrific and seems like a semi-pro tool – there are some really professional photo editing tools in there. iMovie can now deal with 1080p video. Infinity Blade Dungeons and Sky Gamblers Air Supremacy were also shown off as was a new version of Garage Band.
iOS 5.1 and iTunes 10.6 are available today as free software updates. iPhoto, iMovie 1.3 and GarageBand 1.2 are £2.99 each. Keynote 1.6, Pages 1.6 and Numbers 1.6 are £6.99 each.
New iPad connectivity
4G LTE is included in the new tablet for North America only (iPad Wi-Fi+4G is the in-store name) – once again Brits lament slow networks.
There will be separate US models for both the AT&T and Verizon networks. Both CDMA and GSM iPads can now easily roam internationally.
There's also 21Mbps HSPA+, DC-HSDPA offering 42Mbps. LTE clocks in at 73Mbps. You can also use the new iPad as a Personal Hotspot via Wi-Fi, Bluetooth or USB.
All models feature Bluetooth 4.0.
New iPad battery life
The new iPad delivers the same battery life as the iPad – that's 10 hours – with a 9 hours if you're using LTE. LTE is a big power drain, so that's an impressive stat.
New iPad dimensions and dock connector
The new iPad is 9.4mm thick and 652g in weight (662g for the Wi-Fi+4G version) – the footprint is 241 x 186mm. As before, there's still the 30 pin dock connector. Forget the rumours about microSD, mini Display Port and Thunderbolt – they aren't here. New iPad AirPlay mirroring As you'd expect, the new iPad is all over AirPlay Mirroring to Apple TV. That's 720p to 2nd and 3rd generation units, with 1080p mirroring to new 4th generation models.
New iPad colours
Once again the iPad is available in both black and white.
More:
Updated: New iPad: everything you need to know